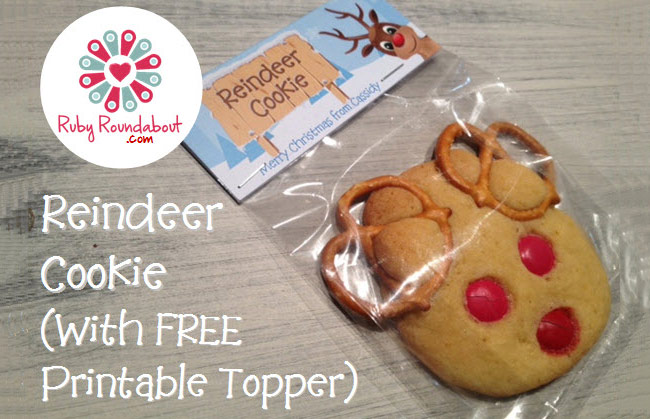 Reindeer Cookies (with FREE Printable Topper)
A few weeks ago I found a picture on Pinterest of Reindeer Cookies and they looked pretty simple so I thought I'd give them a go. So last night I finally began baking the cookies.
I had a huge bag of Smarties (because the kids insisted on every reindeer having a red nose, but I could have just as successfully used jaffas) and a bag of pretzels. I found that small pretzels gave a better result and were easier to fit in the gift bags.
You can see the difference here between the first batch I tried and the following far more successful batches. The first batch were okay but they were far too big. I needed small cute cookies, not bloated reindeer who'd eaten far too much over the Northern Summer period and wouldn't fit in my gift bags. I just underestimated how much those cookies would expand during the cooking process. The next batches were perfect. So cute.

I decided each of my girls could give 10 cookies away. I usually try to give a gift to every child in the class but this year the girls were all in different classes and it was going to be far too much effort so I decided 10 per child was enough. That meant I had 40 cookies to bake and seal in gift bags.

I made some little bag toppers to staple to the gift bags and they look adorable. I was impressed with the finished product and the kids were so excited to hand them out this morning at school.
You can download and print the topper here if you'd like to bake these over the weekend just in time for end of year gifts. I think they'd even be great to send to school for the classroom Christmas party.
Recommended