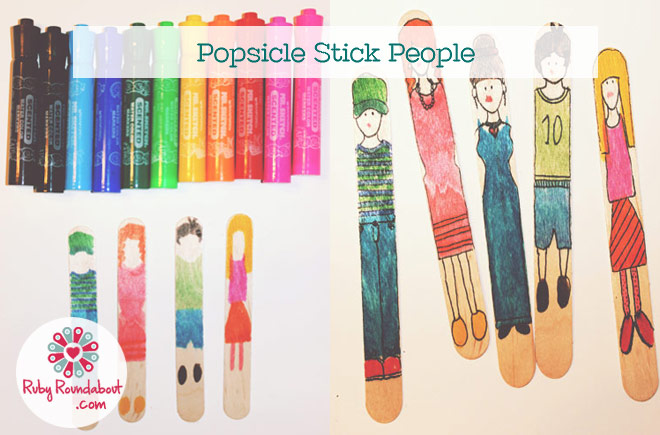 Popsicle Stick People
If you decide to make Popsicle stick people then you not only will have a fun craft to do, but afterwards you will have some fun new toys to play with. One really fun thing about making popsicle stick people is being able to make them look however you want. So just collect a few craft supplies, things you probably already have, and get started!

Supplies
Popsicle sticks, small or large
Watercolours
Markers
Gel pen

Step 1. First thing to do is use the watercolour base to paint the clothes of your stick people. You do not have to be perfect at painting because no matter what you do with the water colours it will still bleed a little on the popsicle stick. Just do your best and have fun dressing up your new playmates.

Step 2. Next you will want to use your coloured markers to add some of the smaller, more detailed parts of your popsicle stick people. Things like shoes, hair, and tiny mouths are much easier to do with the markers. Also, if you want to do all of their clothes with the markers too, that is great. Something else you might consider is colouring both the fronts and backs of your people, but you don't have to.

Step 3. Once you have finished the basic design for your people you can now go back over and outline with the small tip gel pen. You will draw in the outline of their faces, add their eyes, and add little details like necklaces, laces, stripes, or dots. This last step will really help your popsicle stick people come to life. When you are finished these little people are great to play with!

Personalise this Craft
One really fun thing to do is to design your popsicle stick people to look like your friends or family. Dress them up, colour their hair, and you can give them away as gifts. Something else is to make their clothes out of washi tape or glued on fabric instead of painting it on. When you choose to do it this way it adds a little something extra to the detail of your popsicle stick people.
Recommended