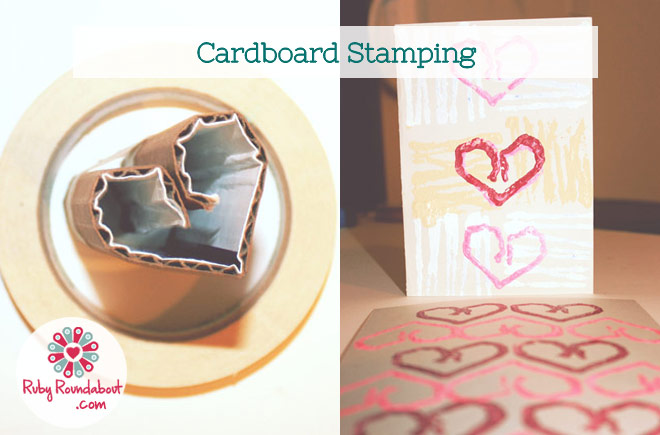 Cardboard Stamping
Stamping is always a fun and easy way to make new crafts, especially when you learn how to do cardboard stamping. With this craft you not only get to paint with stamps, but you get to make your own stamps. It is so fun being able to personalise this craft and you will find a number of things you can do with cardboard stamping.

Supplies
Pieces of cardboard
Tape
Scissors
Paint and brush
String
Glue

Step 1. Start by cutting the cardboard into the shapes you want to use for your stamps. They could be small or large, square or round, stars or hearts. Just choose the shapes you like best, just remember you should have one colour of paint per stamp. So, the more stamps you make, the more colours you can use in your craft.

Step 2. Wrap your shapes with yarn and glue it in place. Then, by cutting two smaller pieces of cardboard and gluing them together, you can make a handle to glue on to the back of your stamps. This will make it easier for you to use the stamps and will also help cut down on mess and mistakes.

Step 3. Make other cardboard stamps, ones that will produce only an outline, by rolling and folding the cardboard. You can make spirals, hearts, squares, triangles. Once you have your shape you can secure it by wrapping tape around the cardboard.

Step 4. Start stamping! You do this by spreading a layer of paint on a paper plate. Dab your stamp in the paint and then press it onto your paper. Again remember, only one color of paint should be used on each stamp. So if you have three paint colours you should have one stamp to use in each colour. You can layer on stamps too, but you just have to let the underlying paint dry before you can stamp overtop of it. Just keep stamping away until you are happy with the design. Let it all dry completely and your art will be ready to use or display.

Personalise the Craft
With cardboard stamping not only can you make a variety of stamps, but once your stamps are made you can paint stamps on cards, posters, and even T-shirts if you have the right kind of paint. These stamps can be used to paint patterns on gift wrap or decorate treasure boxes. The possibilities are endless if you use your imagination.
Recommended