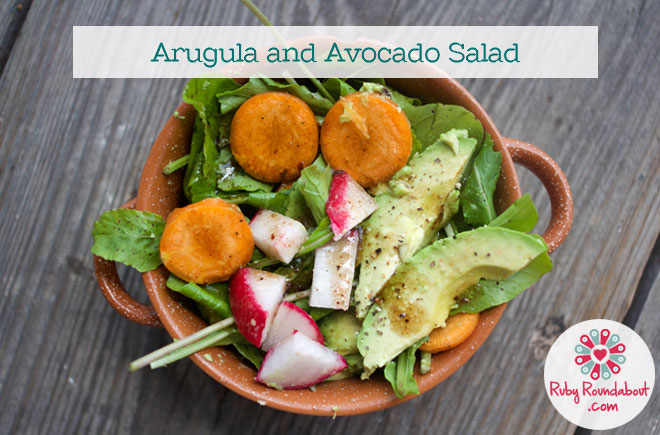 Arugula and Avocado Salad
If you have never tried arugula before, you are in for a treat. It's kind of like spicy lettuce, or lettuce with a bit of a kick. Sound strange? The trick is playing up the flavor. I experimented with a handful of different flavor combinations, and I found that dressing up arugula with a balsamic vinaigrette is the perfect way to take the harshness out of the flavor while maintaining its signature taste. This salad is mixed with avocado, radishes and carrots, which add the perfect mix of creamy crunchy textures. Once you try arugula in this dish, you'll never want to go back to regular lettuce. If you find that the flavor of arugula is a little too intense by itself, feel free to mix it up with a handful of your favorite kind of lettuce. This recipe calls for 1/4 of an avocado, but I won't tell if you slice up more… Arugula is full of tons of wonderful health benefits; it's used as a leafy green, but is actually part of the cruciferous family (think broccoli). These types of vegetables are especially great at protecting the body against specific types of cancers, as well as detoxing the body and providing a healthy dose of antioxidants. Arugula is also packed full of vitamins A, C, K, folic acid and iron. Such little calories providing so many nutrients!
This recipe creates one serving.

Ingredients:
1 cup arugula
1/4 avocado, sliced
1 small radish, diced
1 small carrot, sliced thin
1 tbsp balsamic vinaigrette (or make your own with a mix of olive oil, balsamic vinegar, salt, pepper and garlic)
Method:
In a food processor, process dates until they become a paste and clump together.
Nutrition Facts per Serving:
Calories: 128
Total Fat: 9.9g
Saturated Fat: 2.1g
Sodium: 44mg
Potassium: 482mg
Carbs: 10.0g
Fiber: 4.9g
Sugars: 3.2g
Protein: 1.9g
Recommended