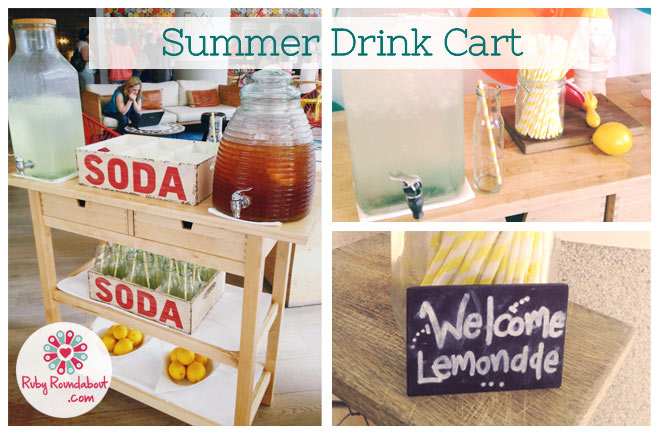 Summer Drink Cart
I know it's time to put my thinking cap on again when my girls start to ask me what we'll be doing for their big sister's upcoming birthday. This year Cassidy has decided that she actually wants a party. It was only a short time ago that she began to express interest in any sort of social celebratory event so we obviously embrace it with both arms. If I'm being honest, I do tend to go a little overboard when I get the chance. I'm not sure if it was pure luck that I happened to be going to an event in Surfers Paradise while I was on the lookout for great ideas, but I sure found what I didn't know I was looking for!
This funky little drink cart was inside the hotel foyer waiting to greet us on arrival and it appeared later in the day outside the conference room to provide a much appreciated lunchtime refreshment. I really love this idea and naturally, I set out to find all the pieces to make my own funky drink cart.


At this point I should probably confess that I am a huge Ebay fan! I happily trawl through pages and pages of listings on my iPad mini almost as some sort of recreational activity.
These vintage soft drink boxes are easily found on Ebay. There are always a lot of them in a variety of colours to choose from. Personally, I like the dividers in the crates but there are a lot of crates available without the dividers.
I found the glass milk bottles on Ebay too. If glass milk bottles make you nervous with young children around, grab the plastic milk bottles instead. LeoandBella.com.au have a range of cute milk bottles ranging from 125mLs upward. For a kids' party, I'd opt for the 250ml bottles. Mason Jars are also a cute little option with daisy cut lids to push a gorgeous paper straw through. Check out the Kitchen and Living page at EmeraldandElla.com.au for more great options. Their 750ml Large Milk Bottles are also gorgeous and would be perfect for gorgeous fruit punch on a hot summer day.



I love the idea of the Welcome Lemonade! While I'm at it, can I just say that I love the idea of a hotel that will give you a cool and refreshing drink as soon as you enter the foyer. Nice move QT Hotel!
The price of paper straws can range dramatically! The first place I look is always our local discount stores. They usually carry a fair supply of the straws at the lowest price. If you're looking for the Yellow Candy Stripe Straws in the photo above, I found them over at EmeraldandElla.com.au. They have a  stack of other colours and patterns to choose from.
If you're into spots, Bedeck.com.au is the place to go. They have low cost paper spotty straws in a variety of colours. I love their gorgeous twine and their party bags. I can see the twine hanging across the front of the drink cart with some paper party bags pegged on the line. Super cute!
Now to the actual drinks cart itself.
http://www.ikea.com/au/en/catalog/products/70177024/

For a cheaper alternative, try using the Noosa Console Table from Fantastic Furniture. It's only $50 and would do make your birthday event look just as lovely. Some of our lovely watercolour bunting tied across the front would be an absolutely gorgeous detail to add.
For drink dispensers, check out LeoandBella.com.au who have a huge range of drink dispensers to choose from.  My favourites in the collection are The Vintage Style Mason Jar Glass Drink Dispenser and the Mathilda Glass Hammered Beverage Drink Dispenser.


However, this Beverage Dispenser with Cork Lid is from Williams-Sonoma and it is hands-down my absolute favourite! I love the gorgeous shape and can see myself using it for so many different refreshing drink choices. It's also dishwasher safe which is an absolute must in my household.
http://www.williams-sonoma.com.au/beverage-dispenser-with-cork-lid.html?sc=107&category=272362



If you decide to create a beautiful summer drink cart in your home, please make sure you send me a photo. I'd love to see the result. It's such a wonderful and simple idea that makes guests feel truly welcome.
Recommended