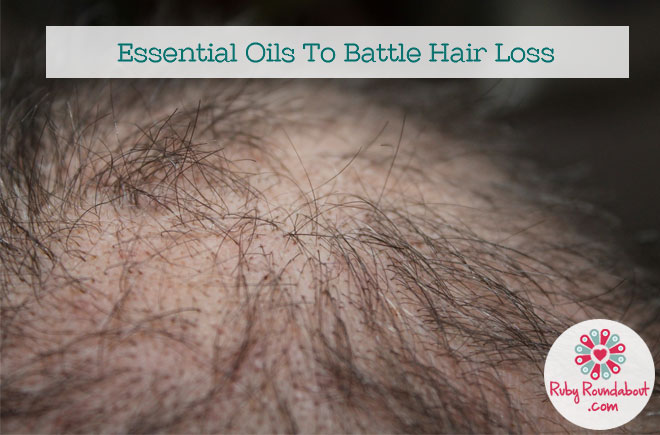 Essential Oils To Battle Hair Loss
Many different factors can contribute to hair loss including illness, surgery, hereditary predisposition, hormonal imbalance, stress or as a side effect from certain medications. Some theories also suggest an over production of sebum, a wax-like substance produced by the skin, can clog hair follicles, suffocating them and causing hair growth to slow and eventually stop. Whatever the cause, don't let thinning hair get you down. While there may not be a magic cure for hair loss, there are many essential oils that can help improve the appearance and condition of the hair and scalp.

When it comes to promoting luscious locks, a healthy and happy scalp is vital. It makes sense that if hair follicles are clogged, resulting hair growth will be impeded. Stimulating essential oils such as rosemary, tea tree, juniper, cypress and geranium can help improve blood flow and circulation to the scalp. These oils are also anti-fungal, anti-bacterial and boast powerful cell regenerating properties so will nourish and care for you hair and skin at the deepest level. However, you must dedicate yourself to battle and make a strong commitment to using Aromatherapy on a regular basis.
Add 3-4 drops of your chosen essential oil, or oils, to 1-Tablespoon of base oil and add to dry hair, paying particular attention to the scalp. Press firmly with your fingers and massage in small circular movements all over your head for a minimum of 5-minutes, but longer of you can. Wrap your head in a warm towel for 15-30 minutes, before adding an all-natural shampoo to wash out the oils. Leave your hair to dry naturally and don't use any hair product such as hairspray or gel. This is a fantastic treatment that will improve blood flow to the area as well as cleanse and care for damaged and unhealthy skin.

When it comes to Aromatherapy the base oils used for dilution are just as important as the essential oils themselves. Although slightly pricier then sweet almond or grapeseed base oil, jojoba is a great investment when it comes to the health and beauty of your hair. One of its many benefits is the ability to dissolve excess sebum, which can assist in keeping hair follicles functioning at their best. Using jojoba on its own, or in combination with essential oils, will also give dull, lifeless hair a real boost and can help with conditions such as dandruff and greasy hair.
If your thinning hair is due to stress, anxiety or hormonal fluctuations then using essential oils to help redress any imbalance as well as calm and soothe the mind, can be of great benefit. Geranium has a natural affinity with the hormonal system, while lavender and roman chamomile are both relaxing and promote a wonderful feeling of well-being. Try adding 2-3 drops of these oils to your scalp massage blend for some extra special TLC.

Many over-the-counter hair products result in an unhealthy build up of residue on the scalp and along the hair shaft. Overtime this will affect the appearance and condition of your hair and scalp, and may lead to thinning hair. Use all-natural products whenever you can and make essential oils a part of your regular hair care regime. Even adding 2-3 drops of an essential oil such as cedarwood, lemon, peppermint or neroli to a fragrance-free shampoo will be immensely beneficial. What's even better is that you can tailor make your very own shampoo, creating a beautiful, personally scented product to help in the fight against thinning hair.
It doesn't matter whether your hair is already starting to thin, or not, it's never too late to look after your tresses. Try some of these following recipes, or experiment with your own blends. The more you bring essential oils into your life, the more you will see and understand the benefits of Aromatherapy and how it can be a powerful ally in the battle against a myriad of complaints, including hair loss.
Thinning Hair Battle Blend:
Ingredients:
30ml jojoba oil
6-drops rosemary essential oil
4-drops cedarwood essential oil
2-drops peppermint essential oil
1-drop lavender essential oil
Directions
Dampen hair and gently towel dry
Massage oil blend into the hair, paying attention to the scalp and working the blend from the roots right through to the ends
Wrap hair in a warm towel and leave for 15-30 minutes
Before washing out, add a teaspoon of shampoo to your hair (natural, fragrance-free is best if you have it). This builds up an emulsion which will help wash out the oil
Wash your hair and allow to dry naturally
Scalp Stimulating Blend:
Ingredients
30ml jojoba oil
3-drops rosemary essential oil
2-drops juniper essential oil
2-drops lemon essential oil
1-drops lavender essential oil
1-drop black pepper essential oil
Directions
Scalp TLC Conditioning Blend:
Ingredients
30 ml macadamia nut oil
6-drops ylang ylang essential oil
6-drops patchouli essential oil
2-drops lavender essential oil
2-drops sweet orange essential oil
2-drops neroli essential oil
Directions
Recommended