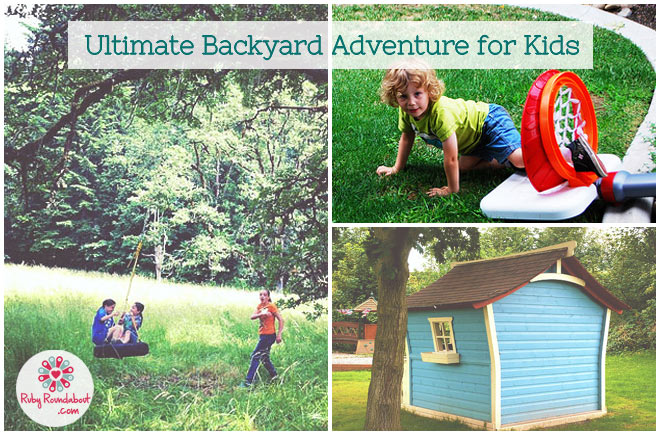 Creating the Ultimate Backyard Adventure for Kids
We all know that if we could only harness the collective energy of every child in Australia we could light our cities for decades to come. As it is, however, we have to find other ways of burning off the energy and creative spark of our children, and for those of us with backyards large and small we have a golden opportunity to keep them on the move from dawn til dusk. Here are some great ideas for turning your backyard into the Ultimate Adventure space for children.
A House of Their Own

Kids love having a base of operations. If you've got a big, sturdy tree or two in the backyard, you could create an amazing Treehouse. There are plenty of Treehouse Plans on the Internet you can grab if you're handy.
If trees are in short supply, buy or build a simple playhouse. While safety is a concern, a playhouse on the ground doesn't need to be able to withstand hurricanes and earthquakes – just sink some posts and build a simple structure that your kids can turn into the ultimate Kids Only Zone.
If you're in the market for a pre-made cubby house, be sure to check out the prices of an old second hand caravan or check out garage sales and eBay for some bargains. You may just be able to pick yourself up a bargain that provides a cheaper alternative to some of the other options available out there.
Super Explorers

When I was working with little ones in preschool, our friendly local butcher used to provide us with some large cow bones that we'd bury in the sandpit. We'd tell the kids that there had been reports of dinosaur bones buried nearby. At playtime, they'd all race out there like junior palaeontologists and 'discover' the bones buried below. It was such a fun activity that really triggered their imaginations. We'd follow that up with some beloved dinosaur story books, maybe a dinosaur DVD and some crafty dinosaur creations. Once the kids knew how this little 'game' worked, they'd take turns in standing up and introducing the game to the other kids with a story they'd made up. It was always brilliant fun and they learnt an awful lot about dinosaurs!
Obstacle Course

Our backyard is currently a bit of a construction zone and as it turns out, the kids love it! There are mounds of dirt for the girls to climb over and the imaginative games they create are just awesome to watch. They have adventures where they imagine they are climbing Uluru. They create obstacle courses. They are challenging themselves to balance along the new retaining wall and see how far they can go before they lose their balance. They can entertain themselves for hours trying to improve on their last attempt. It's fun, healthy and it's a great way to develop imagination.
If you have some space, create a DIY obstacle course.
Large cardboard boxes that once housed a large piece of furniture or even a refrigerator can make for awesome kids' adventures. Create a cool fort or a cubby house by cutting out some windows and place it in the backyard for a day of fun. Let the kids decorate the box and design their own adventure.
Even large foam dots randomly placed on the ground can be used to create some fun backyard games. I remember teaching preschoolers who used to have some amazing ideas for games using foam dots. We'd find ourselves jumping on dots to avoid landing in 'shark infested water' almost daily.
Fill some old plastic bottles with sand or gravel for kids to throw at the bottles to try to knock them down. Position the bottles at varying distances away from the kids and award a different number of points depending on the distance of the bottle. Give them an old board to keep score. I've even turned this game into an educational game to help the kids learn spelling words or number facts.

You can position the bottles in a zig zag pattern to create an obstacle course. A cheap stop watch (we grabbed one at K-mart for only $2) is always a hit with the kids and it helps them to measure their time. Show them how to keep score and try to better their previous time. They'll need a cool drink after doing this activity a few times!
If you're feeling particularly energetic and handy around the home, here are some ideas that will take a little more effort but have a great effect.
You can pick up an old tire from the local car tire centre. Old tires can be hung from tree branches or other overhanging structure to create a classic tire swing. Create a landing zone with a sand pit beneath the tire. If you don't have a tire you could make a wooden swing to hang in the tree or buy a plastic swing seat from the local hardware store (Bunnings).
Tires can also be laid down on the ground and secured in place with pegs (you can grab these from Bunnings too) for the classic tire obstacle course. At the end of the tire obstacle, a hay bale extends the fun. On the other side of the hay bale, you can place some sand for the landing
Mud Kitchen

This is such a fun activity that kids really love! However, parents need to be okay with messy kids. Kids love to get dirty, and a Mud Kitchen set up in one corner of the yard is a great way to let them. Our pet pig Nellie also loves mud so this is such a fun way for our kids and our 'oinky' pet to spend time together playing.
Just set up a simple countertop – I like to use old garbage bins to store our outdoor sport equipment such as bats and balls etc. So even placing a plank of wood or a sheet of ply over two bins is enough to create a convincing outdoor kids kitchen. Incorporate an old sink (or a plastic bucket) if you can, and donate a bunch of old baking sheets, cupcake moulds, and bowls and other kitchen tools. If you happen to have any old kitchen cupboards that will give the kitchen that authentic look, all the better! Then it's just a matter of running the hose over to it and letting the kids get creative with the mud!
Your backyard is one of the greatest kid-friendly assets you have – make use of it with just some scrap materials and a whole lot of creative energy!
Recommended