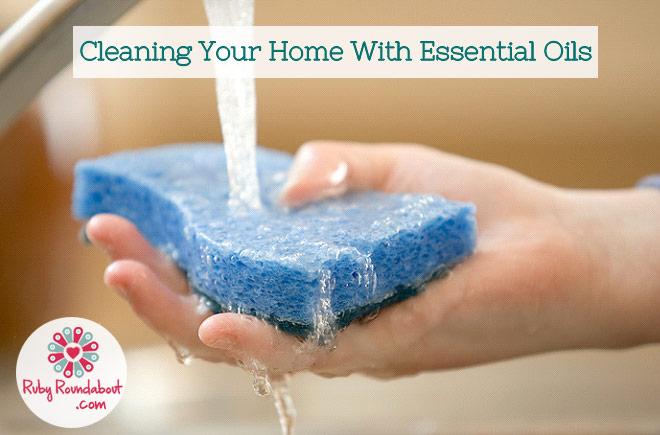 Cleaning Your Home With Essential Oils
On a scale of 1-10 of things I most hate doing, cleaning the house is pretty much top of the list. It's not that I don't enjoy a neat and tidy house that smells and looks fresh, my issue is that many store bought cleaning products have caused me to 'react' in some way. A few years ago, after finally mustering up the willpower to tackle the bathroom, I had quite a serious reaction to a cleaner I was using on the shower, loo and sink. Although the window was open the heavy chemical smell was overpowering, giving me a terrible headache. What was of greater concern, however, was that despite wearing protective gloves I developed small, red itchy spots all over my hands and mid-way up my forearm within 15-minutes of using the product. The spots lasted almost a week and as I scratched at them I thought to myself there had to be a better way of cleaning my house.
As it turns out there is a better way to keep your home clean using natural essential oils. Aromatherapy has been around for thousands of years and clinical studies have shown these plant-based oils have anti-bacterial, anti-fungal, anti-viral, anti-septic and deodorizing properties. In fact hospitals in Victorian France used to burn rosemary branches during epidemics to help prevent the spread of infection. There are many reasons why you should consider bringing essential oils into your daily cleaning routine. First of all they are 100% natural so there is no danger of heavy-duty chemicals being present and they are also more cost effective than shop bought cleaners. Perhaps the greatest benefit is the positive effect the aromas of these oils have on our mental and emotional wellbeing.


Use Lavender to disinfect surfaces and repel moths in drawers and wardrobes
Citrus oils like lemon, orange, grapefruit, bergamot and lime are uplifting and can help create a positive outlook. Rosemary, pine, peppermint, tea tree and eucalyptus are stimulating and energizing, while lavender and geranium are balancing, soothing and relaxing. The oils can be used together in blends or on their own, but it is important that the essential oils do not make direct contact with your skin. Depending on what you are using them for, they should be diluted in solutions of white wine vinegar, water and/or eco-friendly washing up liquid. As you clean your home the beautiful aromas will work to uplift, sooth, relax or energize you.
With cold and flu season fast approaching a simple blend of 12-drops lavender and 10-drops tea tree oil in 125ml water and 125ml white-wine vinegar can be used to wipe kitchen counter tops, bannisters and doorknobs to help kill germs while also giving a boost to your immune system. Windows will positively sparkle with a mix of 12-15 drops of lemon essential oil in 250ml of white-wine vinegar. As with any of these blends it's important to give your spray bottles a good shake before using to ensure the oils have dispersed. If smelly drains are causing problems try 10-drops tea tree, 10-drops eucalyptus and 6-drops orange essential oil in 125ml of white wine vinegar and pour directly down the drain. Rooms can be fragranced using blends of 250ml water with approximately 20-22 drops of essential oils in a spray bottle. My favourite blend to use in my home office is frankincense, mandarin and black pepper, which keep me focused yet relaxed.

Oils such as eucalyptus and lavender are particularly good for helping control dust mites, moths and insects. Last year we were having issues with moths attacking our clothes so I decided to use 2-drops each of lavender, orange and eucalyptus on a cotton ball and place in the wardrobe and bureau drawers. Not only have all the moths disappeared but our clothes and bedding smell absolutely fantastic! I refresh the cotton ball every 2-weeks and love the aromas that greet me when I open up my sock drawer. It's like a mini Aromatherapy treatment first thing every day. Essential oils are incredibly beneficial and can be used to help fight mildew, polish floors and even remove clothing stains.
Although cleaning still isn't one of my favourite pastimes, using Aromatherapy makes it a much more enjoyable experience. Creating my own cleaning products means I know exactly what is, and what isn't in them, and no harsh chemicals means no more headaches or itchy red spots! However it is the gorgeous aromas that fill the air when I use them that really make a difference. Breathing in the summery combination of sweet orange, lavender, geranium and lime, I am not only confident in the cleanliness of my home, but I feel home, and for me, that is what Aromatherapy is all about!
Recommended