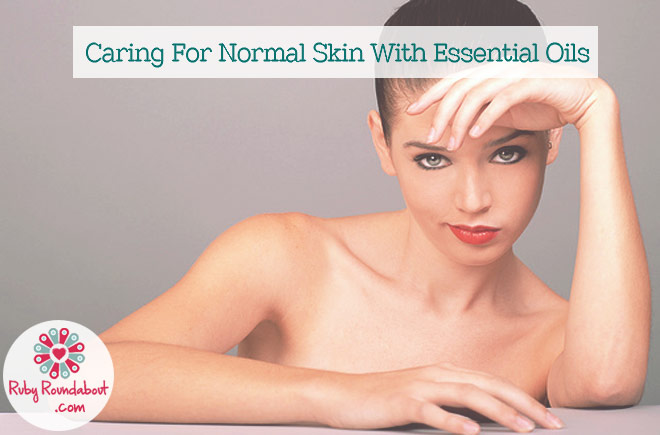 Caring For Normal Skin With Essential Oils
What exactly is 'normal' skin? Does such a thing exist? Well for a few lucky people it does, however skin types can change with age or environmental factors, so although you may have normal skin now, it could alter in time. Normal skin is usually blemish-free with small non-visible pores. It is radiant with good skin tone and feels soft and supple to the touch. Although it doesn't require the same amount of special care and attention that dry, greasy or mature skin needs, regular treatments with essential oils can still be of huge benefit to those with normal skin.

One of the most important tasks in any serious skin care regime is to regularly wash, cleanse and moisturize your face and neck. Environmental pollutants such as cigarette smoke, car exhaust fumes and air conditioning will take a toll on your skin's appearance. Cosmetics, cleaning products and the weather will also have a detrimental effect on the quality of your skin over time. Having normal skin is like a balancing act. You have to work really hard to keep your skin in the 'zone' while its continually being threatened by external forces.
Okay it may sound a bit dramatic but you have wonderful skin that is the envy of all your friends and family and you want to keep it that way. A great way to moisturize and protect your skin from the harsh effects of central heating, UV rays, air conditioning, wind and pollution is to use a facial massage blend 2-3 times a week. The best carrier oils to use are apricot kernel, grapeseed and sweet almond, but I would also be tempted to use a small amount of jojoba oil every so often as well. This intensely nourishing oil is excellent for the skin, helping it retain elasticity. In terms of essential oils there are lots to choose from including rose, neroli, jasmine, lavender, roman chamomile, cedarwood, frankincense, ylang ylang, sandalwood and geranium.
The best way to determine which oils to use is to think about what your skin has experienced. If, for example, you were stuck in an air-conditioned office all day or on a wind-swept hill, a blend of 1-drop lavender and 3-drops ylang ylang in 1-Tablespoon of jojoba oil will soothe and refresh tired, tight skin. Overexposure to the sun may have aggravated your skin but a combination of 2-drops lavender and 2-drops roman chamomile in 1-Tablespoon of sweet almond oil will reduce redness and promote healing. Always wash your face with warm water and gently pat dry before applying the massage blend of your choice. Use small circular strokes as you massage the oil into your skin to improve circulation, skin tone and help you maintain that gorgeous complexion!

If you wear make up then using a toner to cleanse your face of make-up and dirt residue is essential to maintaining happy looking skin. Toners like witch hazel can have too much of an astringent quality, meaning they can dry the skin out a little too much. Rosewater is a great all-round choice for normal skin. It can be used just as it is or alternatively you can add 1-drop geranium and either 1-drop lavender or 1-drop chamomile to a 100 ml bottle. Shake vigorously before each use to ensure the oils have dispersed properly. Use this toner in the morning and at night as part of your cleansing, toning and moisturizing regime.
Using these Aromatherapy oils on a regular basis will keep your skin happy as well as looking and feeling great.
Recommended