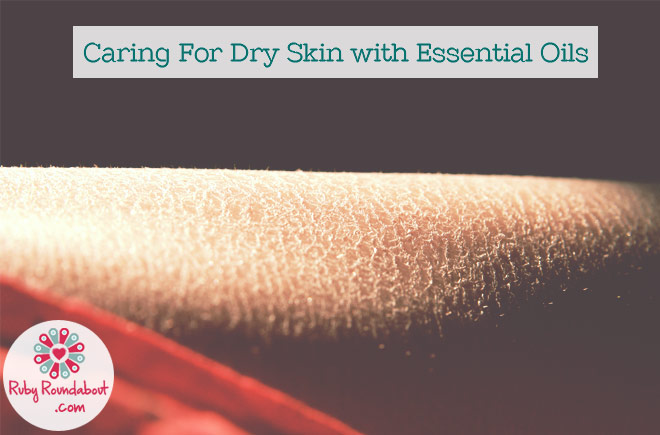 Caring For Dry Skin with Essential Oils
There's no question that when it comes to skin care, dry skin needs a lot of TLC! This is because the thousands of tiny sebaceous glands under the skin are not producing enough sebum to help protect and nourish the skin. Dry skin often looks thin with few visible pores. It is prone to rough, scaly patches, cracks and red, inflamed areas, usually made worse by weather conditions, indoor heating, cosmetics, cleaning agents as well as frequent hot baths and showers. Unfortunately dry skin is also more susceptible to the signs of aging such as fine lines and wrinkles. If you have dry skin, don't despair as help is at hand through the natural, healing properties of essential oils and Aromatherapy.

Since dry skin needs more lubrication it's nice to use rich, nourishing carrier oils as a base for bath and massage blends. Sweet almond oil or apricot kernel oil are two good all-round choices. For an even more intensive treatment try adding other oils such as jojoba, avocado, hemp seed and macadamia nut, which are either too thick or too expensive for use on their own. Both macadamia and hemp seed oil are hugely beneficial for dry skin as they help it retain moisture. Even if you decide not to use essential oils, putting 1-Tablespoon of any of the above carrier oils in the bath, or alternatively using them as a plain massage oil, will make your skin feel silky soft and smooth.
Often dry skin is overly sensitive and delicate so if you do want to incorporate essential oils into your beauty regime opt for gentler 'floral' essential oils such as roman chamomile, jasmine, lavender, neroli and rose. When buying essential oils always make sure they are therapeutic grade and not 'perfumed' or 'fragranced' oils, which are full of chemicals and may irritate your skin. One of my favourite dry-skin remedy blends is 4-drops neroli, 3-drops jasmine and 2-drops lavender in a mixture of 25 ml sweet almond oil and 5 ml macadamia nut oil. Cleanse your face and neck with warm water and gently pat dry, apply the oil blend and massage into the skin with circular strokes for a good 5-minutes. Not only are the oils great for your skin, but the act of massage will also improve your circulation, stimulating the sebaceous glands to produce more sebum.
Red, patchy, inflamed skin will benefit from oils such as lavender and roman chamomile. A warm bath with equal parts 3-drops lavender and chamomile in 1-Tablespoon of sweet almond oil will soothe, nurture and promote healing through cell regeneration. Both sandalwood and geranium can have a balancing effect on the sebaceous glands, stirring them into action. Geranium is particularly helpful if dry skin is the result of hormonal changes within the body. A massage with 4-drops sandalwood, 3-drops rose and 2-drops geranium is a heavenly experience and one your skin will thank you for!

Although you can make your own creams and balms using beeswax and carrier oils, I find it too time consuming and messy. Instead I prefer to buy fragrance-free creams that I simply add my chosen essential oils to. Create a daily moisturizing cream by adding 4-drops neroli, 3-drops frankincense, 3-drops jasmine, 3-drops sandalwood and 2-drops lavender to 50 g fragrance-free base cream. The aroma is so enchanting your friends will be begging you for the recipe! It's also nice to give dry skin some gentle exfoliation about once a week, to help keep the skin from looking dull and lifeless. Honey and oatmeal are fantastic natural products that should be a part of your regular beauty regime. Add 3-drops chamomile and 3-drops geranium to 1-Tablespoon of natural honey and 2-3 Tablespoons of natural, porridge oats. Blend the ingredients well and apply to dampened face, making sure to massage the skin with circular strokes. If you wish, you can double the recipe and use in the bath or shower for an all over pampering experience.
Dry skin may require a lot of care but by bringing the healing power of essential oils and Aromatherapy into your regular beauty regime, you can keep your skin happy, healthy and nourished!
Recommended