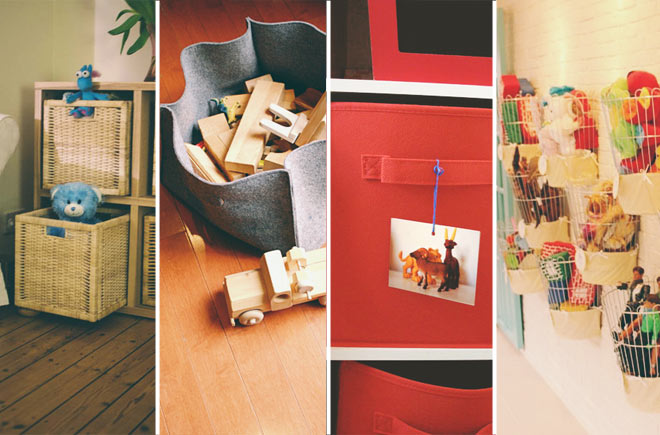 10 Ways to Store Toys with Style
No matter the age of your child, finding a way to corral all of their stuff can be a challenge. Remember that the goal of storage is first to get it off the floor, and second to be able to find it again. It's also important to have a system that works for your child, so that he or she becomes proficient in clean up.  Any system that's too difficult for your child to master will result in frustration for everyone.
For stylish storage, limit the color palette of your storage items to two or three colors for a coordinated look. Likewise, try to coordinate shapes, sizes, and styles as much as possible. A mish-mash looks unorganized, but a collection of similar black baskets with touches of teal looks thoughtful and sophisticate.
Simple Storage
A super and inexpensive solution for bulky toys is to use laundry baskets. They are lightweight, colorful, and give great visibility to what's inside. These durable workhorses come in a variety of shapes and sizes to work with your storage space, and many are even stylish enough to leave out in the open. They are the perfect way to contain lightweight items such as stuffed animals. Even the youngest child can help to put away toys thanks to the open top.


Photo credit: Xoyos.com
Smaller sized stacking baskets are great for toy cars, action figures, and dolls. With a little imagination, the basket itself becomes part of the play set. These plastic baskets are also a great choice for bath toys.
Gift boxes are another option. Buy them already beautified, or create your own coordinated set by covering cardboard boxes with fabric or sturdy paper. Use stencils or stickers to indicate the contents and help your child stay organized.
More Style
Open-top fabric totes are available for purchase in a variety of sizes and colors. They are lightweight and can be folded for compact storage when not in use.


Photo credit: The Felt Store
Wicker baskets are a beautiful option that are as easy to use as plastic, but they are heavier and less kid-friendly. A brightly colored fabric liner protects the basket and its contents. The liners are easy to clean and easy to change out if you décor changes.


Photo credit: Shelley & Dave
Plastic peanut butter jars are a brilliant solution for all those odds and ends that kids collect. They are inexpensive and durable, and the clear plastic makes it easy to see the contents without having to dump out the entire contents. With their colorful lids, they are perfect just the way they are, but for a more coordinated look, glue inexpensive plastic figures to the tops, then spray paint them a solid color to create the look of custom storage. Or paint with chalkboard paint and label the contents.
Another great idea for smaller items: over-the-door shoe storage. Each pocket is the perfect size for a fashion doll or a couple of video games. Consider cutting the unit in two and mounting a half to the inside of a cabinet door so that all of the pockets are at child level.
Coordinated tote bags are another simple and colorful solution. Purchase or make simple totes and add a stencil to represent what it's for—a hammer for toy tools, a dress for doll clothing. Or use plastic pails in the same way. Add a row of hooks to your wall at your kids' level and assign a tote to each hook for functional wall art. This is also a great way to organize kids' books, which tend to be odd sizes.


Photo credit: Wendy Copley
Specialty Pieces
If you've got children who love to play dress-up, repurpose an old entertainment center to keep their things in order. A fresh coat of paint and a spring rod can turn a cast-off wall unit into the dress-up closet of a child's dreams. A night stand can be repurposed in the same way for doll clothes.
For arts and craft items, hobby stores sell containers of every shape and size, or use jewelry boxes or even food boxes covered with coordinated paper. Store everything in set of plastic drawers on casters; dress up your rolling craft center with decorative paper inside the drawer fronts.
Recommended