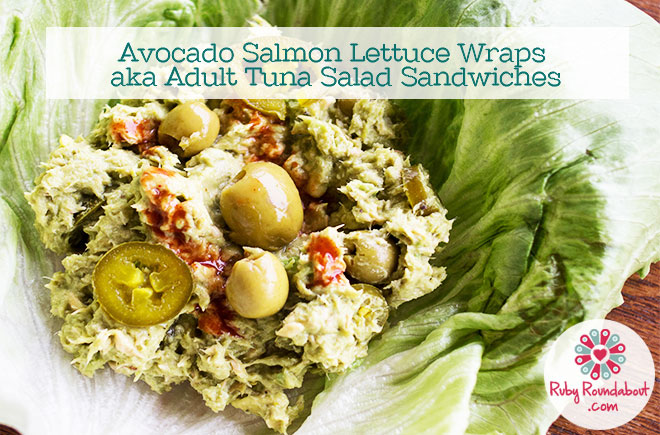 Avocado Salmon Lettuce Wraps aka Adult Tuna Salad Sandwiches
Think back to elementary school days filled with tuna salad on white bread. When was the last time you ate that? When was the last time you thought about eating that? All too often tuna salad is drenched in mayonnaise, and white bread is a terrifying concept in itself. Thus, the 'adult tuna salad sandwich was born'.
Except, this tuna sandwich is actually made with salmon. Avocado replaces the mayonnaise, and a beautiful leaf of iceberg lettuce replaces the bread. A little bit of dijon mustard, green olives, jalapeños and the tiniest dash of hot sauce, and you've got the best darn 'sandwich' in the world – or at least once of them. If you're worried about how you could possibly get full on a sandwich made of lettuce, the salmon and avocado have that covered. Full of good fats and tons of protein, you'll stay full until dinnertime.
There are so many great health aspects of salmon. Shall I mention the omega 3 fatty acids, or the large amounts of vitamin D and B12? What about the amount of protein it has, or the fact that it reduces your risk of cardiovascular problems in the future? Salmon is a delicious, versatile superfood that's a perfect swap for tuna in this recipe. Add an avocado into the mix – with its healthy fats, fiber, magnesium and potassium – and you've got yourself quite a healthy lunch.
This recipe creates one serving.

Ingredients:
1 can of salmon (make sure it says boneless and skinless!)
1/2 ripe avocado
1 tbsp dijon mustard
1 tbsp green olives
1 tbsp sliced jalapeños
a dash of your favorite hot sauce
1 large leaf of iceberg lettuce
salt and pepper, to taste
Method:
Open the can of salmon and drain out the water. Scoop out the avocado from its skin.
In a medium sized bowl, mash the avocado with the salmon until desired consistency is reached.
Add in the dijon mustard, mix well. Add in olives, jalapeños, salt and pepper, mix.
Place salmon mixture into the centre of a large piece of iceberg. Add a dash of hot sauce if desired.
To create the triangle shape, first fold up from the bottom, then fold down from the sides. Enjoy!
Nutrition Facts per Serving:
Calories: 254
Total Fat: 17.2g
Saturated Fat: 3.3g
Sodium: 206mg
Potassium: 576mg
Carbs: 6.9g
Fiber: 5.2g
Protein: 13.0g
Recommended